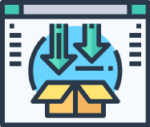 Installation and implementation
We help you to carry out the first configuration – create a list of doctors, plan the schedule of work week, enter the data of patients and many more! All of this to make the implementation quick and effective.
Internet Training
Thanks to a remote desktop services and the possibility to watch the work of our Help Center Assistant, you will get accustomed with the Estomed functionalities step by step and in convenient time.
Safety and convenience
Our Support Center service provides you with a security and convenience of work – in case of accidental data loss or making a mistake, we can quickly restore the previous status of the program.
Data synchronization
This module enables the management of data exchange between different program installations, each of which can work separately. The tool enables the diagnosis and repair of common problems using a simple interface, thanks to which the user has full control over data synchronization, without additional IT support.